<![if !vml]><![endif]>

Antes/Before Después/After

<![if !vml]><![endif]>

<![if !vml]><![endif]>

1.-Se toma el color inicial 2.-Se protegen las encías

3.-Se separan los labios 4.-Se prepara el material

5.-Se aplica el material 6.-Se aplica el LASER

7.-Se aplica LASER por 20 minutos

Color inicial A3 Color final A1 Observe como mejora el brillo, y el color sin irritar las encias.

Según la Academia de Láser Dental, se puede obtener con el LASER un blanqueamiento de los dientes entre 4 y 8 tonos, siendo la única técnica capaz de producir estos excelentes resultados.

<![if !vml]><![endif]> De un tono A3.5 cambio a un tono B1.

Tratamiento terminado con OZONO

<![if !vml]><![endif]>

ZOOM2! Chairside Whitening – Fast, Dramatically Whiter Teeth

What is Teeth Whitening?

Teeth whitening is a procedure that removes stains and discoloration from teeth.

Discoloration can be the result of a combination of things:

genetics
poor oral hygiene
accidents
medication
the effects of aging
smoking
certain foods.

Whitening techniques will only work for tetracycline staining if the discoloration is very mild. Teeth that are discolored because of tetracycline or excessive fluoride are not good candidates for the whitening procedure. Veneers are the best solution for more severe tetracycline cases. Once you reach our office, I will let you know what the best solution for you is.

At our office, we can change all this and give you a "Movie Star" smile within one hour.

Zoom2! Teeth Whitening

Zoom2! whitening treatment provides beautiful, long-lasting results. It safely and effectively whitens teeth while preventing cavities and improving the overall health of your enamel. Zoom2! Whitening is ideal for anyone looking for immediate results. The convenience of Zoom2! in comparison to days of wearing trays and gradual whitening makes it the perfect choice for the busy patient.

First, we check the teeth for cavities as the whitening gel can cause serious damage if it leaks into these areas. If cavities are found, they must be repaired before tooth whitening takes place. If there are no cavities, we will begin the whitening process. The process is quick, easy, and comfortable. Under the supervision of our dentist, our whitening treatments are completely safe and will not harm teeth or gums.

In just 45 minutes, this safe and effective system can give you the instant results you've been wanting – an average of eight shades! The Zoom2! light activated gel is a scientifically formulated, pH balanced Hydrogen Peroxide that, when activated by the Zoom2! light, gently penetrates the teeth to remove deep stains and discoloration. With 3 fifteen minute sessions you will have a beautiful, bright smile in less than 1 hour. With proper care and an occasional touch-up at home, your whiter smile will sparkle for years. Also with the new Zoom2! system, our patients experience up to 67% less sensitivity than with the previous Zoom! system.

You will be given some post-whitening care instructions after your procedure. It is important to maintain a good oral hygiene regimen post-whitening to preserve your bright, white smile. We also recommend occasional touch-ups with the Zoom! Take-Home Gel. Your smile will always be brighter than it was before the procedure, but by following these simple instructions, you can retain your results for a long time!

The advantage of using dentist-supervised bleaching is that teeth can be properly assessed to have the correct chemical concentration, correct method and length of treatment and to be sure the patient is even suitable to have their teeth whitened.

ZOOM!2™ TOOTH WHITENING SYSTEM

Zoom!2 is a scientifically advanced, patent pending, tooth whitening procedure. It is safe, effective and fast for anyone looking for immediate results. With the new Zoom! 2 system, patients experience up to 67% less sensitivity than with the previous Zoom! system. And it is also 33% faster with results in 45 minutes.


The procedure is simple and take only one-hour. After checking your teeth and gums, a whitening gel containing hydrogen peroxide is placed over your teeth. The low-heat Zoom! light is shone on your teeth to activate and break down the hydrogen peroxide. As the hydrogen peroxide breaks down, it allows oxygen to enter your teeth and bleach the dentin and enamel.

Fast and convenient

Long lasting

Low sensitivity

Proven to be safe and effective

Performed by a Dental Professional


Extensive research and clinical studies indicate that whitening teeth under the supervision of a dentist is safe. In fact many dentists consider whitening the safest cosmetic dental procedure available.

FREQUENTLY ASKED QUESTIONS (FAQs)

<![if !vml]><![endif]> What is Zoom! tooth whitening?
Zoom! is a bleaching process that lightens discoloration of enamel and dentin. You may have seen the Zoom! process used by me on ABC's Extreme Makeover.

<![if !vml]><![endif]> How long does Zoom! Chairside Whitening take?
The complete procedure takes less than an hour. The procedure begins with a preparation period followed as little as by 45 minutes of bleaching. (A cleaning is recommended prior to the actual Zoom! whitening session.)


<![if !vml]><![endif]> How does the Zoom! In-off ice system work?
The Zoom! light activated whitening gel's active ingredient is Hydrogen Peroxide. As the Hydrogen Peroxide is broken down, oxygen enters the enamel and dentin, bleaching colored substances while the structure of the tooth is unchanged. The Zoom! light aids in activating the hydrogen peroxide and helps it penetrate the surface of the tooth. A study has shown that use of the Zoom! lamp increases the effectiveness of the Zoom! gel by 26% or more, giving an average improvement of up to eight shades.


<![if !vml]><![endif]> What will I experience during the Zoom! In-Office Procedure?
During the procedure, patients may comfortably watch television or listen to music. Individuals with a strong gag reflex or anxiety may have difficulty undergoing the entire procedure.


<![if !vml]><![endif]> How long do the results last?
By following some simple post whitening care instructions, your teeth will always be lighter than they were before. To keep your teeth looking their best, we recommend flossing, brushing twice daily, and occasional touch-ups with Zoom! Weekender or Nite White gel. These are professional formula products designed specifically to keep your teeth their brightest. They are available only through your dental professional.


<![if !vml]><![endif]> Are there any side effects?
Sensitivity during the treatment may occur with some patients. The Zoom! light generates minimal heat which is the usual source of discomfort. On rare occasions, minor tingling sensations are experienced immediately after the procedure, but always dissipate. You can also ask your dentist to supply you with anti-sensitivity toothpaste for use prior to treatment.


<![if !vml]><![endif]> What causes tooth discoloration?
There are many causes. The most common include aging and consumption of staining substances such as coffee, tea, colas, tobacco, red wine, etc. During tooth formation, consumption of tetracycline, certain antibiotics or excessive fluoride may also cause tooth discoloration.


<![if !vml]><![endif]> Do many people whiten their teeth?
More people than you might imagine. A bright sparkling smile can make a big difference for everyone. The Zoom! Chairside Whitening System makes it easier and faster than ever before.


<![if !vml]><![endif]> Who may benefit from tooth whitening?
Almost anyone. However, treatment may not be as effective for some as it is for others. Your dental professional can determine if you are a viable candidate for this procedure through a thorough oral exam, including a shade assessment.


<![if !vml]><![endif]> Is whitening safe?
Yes. Extensive research and clinical studies indicate that whitening teeth under the supervision of a dentist is safe. In fact, many dentists consider whitening the safest cosmetic dental procedure available. As with any tooth whitening product, Zoom! is not recommended for children under 13 years of age and pregnant or lactating women.

Contact us today to schedule an appointment. (956) 242 6826

Don't hesitate to contact us to discuss any aspect of your dental health – we don't charge for giving advice!

Candidatos para el BLANQUEAMIENTO

1. Buena salud dental y gingival.

2. Pacientes con sonrisas amplias.

3. Pacientes con pequeñas o moderadas pigmentaciones.

4. Pacientes con motivación interna y receptivos.

5. Buena higiene oral.

6. Pacientes sistémicamente sanos.

NO candidatos para el BLANQUEAMIENTO

1. Dientes sensibles no tratados........AHORA CON BLANQUEAMIENTO CON OZONO SI SE PUEDE.

2. Pigmentaciones de tetraciclina en segundo y tercer grado......AHORA SI PODEMOS QUITAR MANCHAS DE TETRACICLINA.

3. Fluorosis severas, amelogénesis, defectos de superficie grande..AHORA SI PODEMOS QUITAR MANCHAS DE FLUOROSIS.

Dientes con fluorosis, ahora si podemos quitar esas manchas sin carillas o coronas.

4. Embarazo y lactancia.

5. Hiperemia asociada al movimiento ortodóntico.....AHORRA CON OZONO SI SE PUEDEN BLANQUEAR.

6. Menores de 17 años y mayores de 65 años..........AHORA CON OZONO SI SE PUEDEN BLANQUEAR.

7. Pacientes con Restauraciones Grandes en los dientes anteriores a blanquear....HOY SI SE PUEDE TRATAR CON OZONO.
BLANQUEAMIENTO CON OZONO SIN SENSIBILIDAD DENTAL NI ANTES NI DESPUÉS.

__________________________________________________________________________________________________________________________


What Is Tooth Whitening?
It's actually a bleaching process that lightens discolorations of enamel and dentin. The system Dr.Saldivar recomends, uses a mild solution retained in a custom-fitted appliance that is worn over your teeth while you sleep. You also have the option of using the system during the day as the custom-fitted tray is hardly visible and does not interfere with speech.

What Causes Tooth Discoloration?
There are many causes. The most common include aging, consumption of staining substances (coffee, tea, colas, tobacco), trauma, tetracycline (antibiotic) staining, excessive flouride, nerve degeneration and old restorations.

Who Can Benefit From Tooth Whitening?
Almost everyone. However, there are some cases where the treatment may not be effective. Dr.Saldivar can determine wether or not you are a viable candidate for the process or if another cosmetic procedure would better meet your expectations. The tooth-lightening system is ideal for patients who have healthy, unrestored teeth and would like to have a whiter, brigther smile.

Is Tooth Whitening Safe?
Research has indicated that whitening teeth with carbamide peroxide is safe for the teeth and gums under the supervision of a dentist. The custom-fitted trays isolate the solution to the part of the teeth that need to be bleached and keeps contact with the gum tissues to a minimum. Dr.Saldivar can determine what concentration of bleaching solution will be best for your teeth.

How Does It Work?
The bleaching gel is placed in a thin custom-fitted tray that fits only over your teeth. As the active ingrediant in the gel, carbamide peroxide, is broken down, oxygen enters the enamel and dentin and bleaches the colored substanes. The structure of the tooth is not changed; only the tooth is made lighter and whiter.

How Long Does It Take?
Results are usually seen in the first night. Maximum results generally occur when the process is continued for 10 to 14 nights.

Are There Any Side Effects?
Some people experience increased tooth sensitivity to cold during the treatment. Others have reported temporary discomfort, such as gum or tooth sensitivity. These symptoms ALWAYS disappear within 1-3 days after interruption or completion of the treatment.

How Long Will The Results Last?
Your teeth will always be lighter than they were. However, some patients may need periodic re-bleaching or "touch-up" treatments for one or two nights every six to twelve months.
All whitening systems use a chemical reaction to bleach the teeth. The role of the laser is to act as a catalyst or energizer to speed up the reaction. The laser does not "cut", "peel off", or "burn" stains to whiten teeth. It is a safe FDA Approved procedure that is fast and effective with minimal discomfort. Your teeth will be noticeably lighter and brighter after only one 60-minute visit.



YOUR WHITENING VISIT
Due to the length of the visit and the uninterruptible nature of the procedure, we request that you make any necessary phone calls and use the restroom facilities before being seated. Other than the long duration, your visit should be comfortable, relaxing, and an opportunity for you to doze off during the laser treatment phase. Your visit consists of four parts:

1. CONSULTATION
Your visit begins with the doctor checking your medical history and giving you a brief oral examination to discuss laser whitening as it relates to your particular oral condition and expectations. A shade guide is used to record your " before" shade and "expected" results are discussed with you. If you are in agreement and consent to treatment, then the whitening procedure begins, with the doctor taking impressions for your custom maintenance trays.

2. PREPARATION
As needed, the teeth being whitened are cleaned and polished with pumice to remove any film or tartar that might affect results. Next, your gums are "painted" with a protective coating that protects them from the bleaching chemicals and isolates the teeth.

3. LASER TREATMENT
The doctor now safely applies the bleaching gel to all the teeth being treated. Patients wear protective glasses as the doctor directs the laser light and plasma arc light beams sequentially to each tooth for 30 seconds and 3 seconds respectively. The plasma arc light gives a sudden burst of energy that activates the bleaching gel and enhances the laser results. Following the combination treatment, the bleaching gel is removed and fresh gel is applied. A second pass is made for optimal result. Upon completion, the bleaching gel and protective coating of the gums are removed and the mouth rinsed. Total treatment time is approximately 35 minutes.

4. EVALUATION AND POST OP INSTRUCTIONS
The shade guide is now used to determine the "after" treatment shade. There should be a noticeable difference resulting in a lighter, brighter smile. Post operative instructions include immediate and long term care, touch-up and maintenance and your custom trays are given to you. We want you to be informed and pleased so that you will join our many satisfied patients, and refer your friends and family.

HOW SAFE IS LASER WHITENING?
Laser whitening was approved by the FDA (Food and Drug Administration) in March of 1996. The hydrogen peroxide used in the bleaching process has been used in dentistry for over 20 years. The "Blue Light" Argon Laser which we use is soft tissue and tooth friendly and does not cut or harm teeth. Our office has safely performed over 1200 laser treatments with no known tooth or gum damage.



IS THE PROCEDURE PAINFUL AND ARE THERE SIDE EFFECTS?
The procedure itself is generally painless and requires no anesthesia. An occasional twinge or tingling may be felt but these are usually mild and of short duration. Less than 10% of patients may experience a mild sensitivity or a dull ache. They usually last less than 24 hours and are usually controllable by taking aspirin or ibuprofen.



HOW WHITE WILL MY TEETH GET?
There is no universal answer as the type and amount of staining will affect results.
Extrinsic (external) stains such as coffee, tea, nicotine, red wine, dark colas, aging,etc. are readily removed resulting in noticeably whiter teeth. Intrinsic stains from tetracycline, flourosis, decalcification and other discolorations occurring during tooth development are much more difficult as these are deep inner stains. Noticeable lightening will result but the basic stain coloration normally remains. Every case is unique and is evaluated prior to treatment. That is the purpose of the consultation and discussion of "expected" results prior to treatment.



HOW LONG WILL IT LAST?
Stains that are removed are gone forever. However, depending on lifestyle and oral care they may reoccur. Some people may never need to re-lighten their teeth, while most may need occasional touch-ups. Using your maintenance trays and whitening toothpaste should keep them white for as long as you use them.



CAN I TREAT THEM AGAIN TO GET THEM WHITER?
Each treatment results in lighter teeth but with diminishing results. The amount and type of stain determine how much lighter. Dark teeth may require multiple treatments to get their whitest. However, there is a saturation point at which "over bleaching" may occur that if exceeded can result in enamel damage. We will not furnish you with enough gel for this to happen without scheduling an evaluation appointment.



WILL WHITENING AFFECT MY CROWNS OR FILLINGS?
The whitening process will not harm or weaken existing restorations. Laser whitening will only clean-up existing crowns of fillings but will not change their color or shade. It is possible that they may need to be replaced to match the lighter natural teeth.



WILL MY TEETH BE MORE SUSCEPTIBLE TO STAINING AFTER THE LASER TREATMENT?
Your teeth stain at the same rate regardless of whether you whiten or not. However, after treatment you are more aware of the shade of your teeth and stains are more visible on whiter teeth.



HOW MANY TEETH DO YOU WHITEN?
From premolar to premolar (excluding molars), which normally means 10 upper and 10 lower teeth.



HOW DOES THE LASER COMPARE WITH BLEACHING TRAYS?
Both are effective and will give good results when properly used. The laser procedure shows results in one hour that may take wearing trays one to three weeks to achieve. Also, the laser is in the doctor's control whereas the trays are under the patient's control. It takes discipline, patience, and there is usually more discomfort with the trays. Approximately half the patients we treat with the laser have tried trays and for one reason or another have chosen to get the laser treatment. If you could lose 10 pounds in one hour instead of dieting for one to three weeks to achieve the same 10 pound loss, which would you choose? The biggest advantage of the laser is instant gratification which our low cost makes possible for less than most dentists charge for trays, and we still give you a free set of trays.



WHY ARE YOUR FEES SO LOW?
Whitening is our only business. We offer special low rates to build our practice and make it affordable, so that we can perform 4 to 5 procedures per day verses the 1 to 2 per week for most dentists.



WHITENING WITH CUSTOM BLEACHING TRAYS ALONE
Congratulations on your decision to use custom trays for whitening or for Touch-ups. They are simple to use and can achieve great results when properly used.



SELECTING THE TREATMENT MODES
You may choose to wear the trays at night while sleeping or during the day. We do not recommend both day and night use. You may however alternate day or night treatment to fit your daily routine. Nighttime tray bleaching is the most effective method due to longer wear (most people sleep 6-8 hours) and less gel dilution occurs due to decreased saliva flow while sleeping. We recommend a 10% carbamide peroxide gel for long term (1 week or more) of the nighttime bleaching. Wearing your trays during the day for 1-2 hours is also very effective but may take a little longer to achieve the same results. A higher concentration (15% or 20%) carbamide peroxide gel may be used for some cases.



APPLICATION OF BLEACHING GEL
As shown in the instructions, apply the gel only to what would be the front surface of your teeth. There are special "reservoirs" built into your tray to hold the gel in place. Note that "Contrast" recommends using 1/2 a syringe per tray per application. This is excessive and results in a lot of wasted gel. Typically using 1/2 to 1/3 of their recommendation is adequate. In other words one syringe should last 2 to 3 days. Use a dab on each tooth instead of a long continuous strand.



HELPFUL HINTS
Maintain good oral hygiene by brushing and flossing
Clean and rinse trays after each application
Do not smoke, eat or drink while wearing trays
Avoid, or reduce smoking, drinking dark colas, red wine, tea and coffee while in treatment.
Keep the trays in your mouth for the full session. Putting them in and out causes loss of gel.
Minimize sensitivity by using a toothpaste for sensitive teeth such as Sensodyne or Thermodent.
If teeth are sensitive, avoid cold or hot liquids, citrus fruits or juices and take aspirin ibuprofen.
Mild sensitivity is normal, more severe problems are not. Be sure to read the discussion on sensitivity on the back of the Contrast package. For problems or in case of doubt stop treatment and call our office.



TREATMENT TIME AND TOUCH-UPS
Results vary directly with the amount of time the teeth are exposed to the bleaching gel, concentration of gel, amount of staining and types of stain. Typically the average patient should see some results within two to three days and reach final whitening within two weeks. Stains that are removed are gone forever. However, depending on lifestyle and oral hygiene they may reoccur. Although some people may never need to re-lighten their teeth, most of us will need occasional touch-ups. There are no hard and fast rules, but we recommend wearing the trays for one application, either night or day, every three months. This should assure you of a continuous white smile. You may purchase additional gel from us as needed.

LASER OPTION
In case a person is unable, unwilling, or wants to switch to laser whitening, we will allow a 50% payment credit towards the laser procedure.
I must warn you. Over-the-counter (OTC) whitening toothpastes and bleaching systems are a waste of time and money. They may whiten your teeth but it will take years or decades. ((( Why do our teeth darken? ))) The factors that darken the teeth are, staining foods like wine, tea, coffee; use of tobacco; hot and cold cycling; and time. Staining foods and tobacco are obvious. Changes in temperatures of food and drinks allow the teeth to expand and contract which causes stains to penetrate the teeth. Foods that are slightly acidic also open up the pores of the enamel and allow stains to move in. ((( Is Tooth Whitening Safe?))) Research has indicated that whitening teeth with carbamide peroxide is safe for the teeth and gums . The custom-fitted trays isolate the solution to the part of the teeth that need to be bleached and keeps contact with the gum tissues to a minimum. ((( How Does It Work? ))) The bleaching gel is placed in a thin custom-fitted tray that fits only over your teeth. As the active ingredient in the gel, carbamide peroxide, is broken down, oxygen enters the enamel and dentin and bleaches the colored substanes. The structure of the tooth is not changed; only the tooth is made lighter and whiter. ((( How Long Does It Take? ))) Results are usually seen in the first night. Maximum results generally occur when the process is continued for 8 to 10 nights. ((( Are There Any Side Effects? ))) Some people experience increased tooth sensitivity to cold during the treatment. Others have reported temporary discomfort, such as gum or tooth sensitivity. These symptoms ALWAYS disappear within 1-3 days after interruption or completion of the treatment.YOU SHOULD NOT USE THIS PRODUCT IF YOU ARE PREGNANT,.WEAR BRACES, HAD RECENT ORAL SURGERY,OR HAVE A PERIODONTAL DISEASE . The manufacturer and seller assume no responsibility for any usage of product. You should consult with a dentist before attempting any at-home treatments and understand that there are risks involved if not doing so ((( How Long Will The Results Last? ))) Your teeth will always be lighter than they were. However, some patients may need periodic re-bleaching or touch-up treatments for one or two treatments every six to twelve months.

Make your appointment right now:
Phone: Dial from USA. (956) 242 6826
<![if !vml]>

<![endif]>
¿No te mereces una sonrisa como esta?
Copyright©2018 Dr.JavierSaldivarV.AllRightsReserved
La sonrisa es la característica que más nos atrae en una cara. Gracias a grandes avances tecnológicos en la odontología, hoy en día no estamos obligados a conformarnos con dientes manchados, desgastados, malformados, separados o apiñados.
¿Está usted satisfecho con su sonrisa?
Si usted contesta positivamente alguna de las siguientes preguntas, es muy probable que se pueda beneficiar con la odontología cosmética.
¿Tiene usted algún diente o empaste manchados?

¿Están sus dientes superpuestos, separados o torcidos?

¿Están sus encías rojas, en recesión o sangran?

¿Le faltan dientes o tiene grandes espacios entre sus dientes?

¿Tiene usted dientes con formas irregulares debido a desgastes o fracturas?

¿Le parece que sus dientes se ven desproporcionados?

¿Cuando sonrie enseña mucha encia (sonrisa gingival)
BLANQUEAMIENTO DE DIENTES
Técnica que, mientras duerme, le permite obtener un color más blanco de sus dientes, consiguiendo una mejor sonrisa. Es un sistema indolora y totalmente seguro para sus dientes, ya que no desgasta el esmalte dental.
TRATAMIENTO RESTAURADOR DE LESIONES EROSIVAS
Sirve para corregir las erosiones, fracturas y desgastes de las piezas dentarias.
CARILLAS DE CERÁMICA
Tratamiento que consigue resolver las alteraciones estéticas de los dientes anteriores. Sobre los dientes naturales se adhiere una capa de porcelana, con la que conseguimos el color, el tamaño y la forma que deseemos. Es un tratamiento mas conservador que las fundas ya que no desgasta tanto los dientes.
CORONAS Y PUENTES DE PORCELANA
Cuando tenemos una pérdida dentaria o en casos con dientes muy restaurados, sin nervios o con grandes fracturas. Al mismo tiempo que se refuerza el diente conseguimos una estética muy elevada.
ESTÉTICA GINGIVAL
Un componente muy importante de la estética de una sonrisa es la encía. Debe estar en buen estado de salud y en armonía con el resto estructuras.
Sonrisa gingival:
En ocasiones los dientes no acaban de erupcionar totalmente o el labio superior se retrae mucho al sonreír. Estos casos pueden mejorar sensiblemente con un tratamiento estético periodontal.
| | |
| --- | --- |
| | |
| Antes | Después |
Ahora BLANQUEAMIENTO con OZONO mismos resultados pero sin sensibilidad ................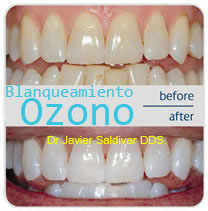 Recesion Gingival.
Por diferentes motivos la encía se puede retraer en uno o varios dientes, produciendo un efecto antiestético. Estos defectos se pueden corregir con un tratamiento estético gingival.
| | |
| --- | --- |
| | |
| Antes | Después |
- Blanqueamiento de dientes -
1.-Blanqueamiento en diente no vital.
2.-Blanqueamiento en diente vital.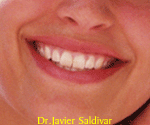 Copyright © 2018 Dr.Javier Saldivar V. All Rights Reserved.
Blanqueamiento en diente vital.
En odontología se utiliza comúnmente el término blanqueamiento para designar las distintas técnicas encaminadas a tratar las tinciones intrínsecas de los dientes. Pero su finalidad no es obtener un color blanco, sino un diente más claro. Por lo tanto, utilizamos el término aclaramiento para designar el efecto que consigue el tratamiento sobre los dientes, y blanqueamiento para referirnos a las técnicas utilizadas para aclarar el color dentario.
Estas técnicas consisten en la aplicación de diferentes productos químicos sobre la superficie o en el interior del diente, a veces acompañados de la administración de calor o de luz para mejorar la eficacia del agente blanqueante.
Según la causa de las decoloraciones dentarias y, por lo tanto, la técnica para su tratamiento, distinguimos entre blanqueamiento de dientes no vitales y blanqueamiento de dientes vitales. Tanto en unos como en otros se distingue entre: tratamiento en la consulta dental, tratamiento en casa, y tratamiento combinado.

Blanqueamiento en diente no vital.
Esta técnica se utiliza en dientes en los que se ha realizado previamente un tratamiento endodóntico. Empezaremos haciendo un diagnóstico detallado con historia clínica, exploración clínica y radiográfica para tener clara, en lo posible, la causa de la decoloración y el estado actual del diente.

Las indicaciones de esta técnica son:
Dientes decolorados por muerte o hemorragia pulpar.
Dientes teñidos a causa de distintos materiales utilizados en tratamientos endodónticos previos.
Fracaso de un blanqueamiento vital previo.

Sus contraindicaciones son:
Tratamiento de conductos incorrecto (limpieza y sellado incompleto del sistema de conductos)..
Presencia de lesiones alrededor de la raíz.
Signos de reabsorción de la raíz.
Tinción provocada por empastes de plata, ya que en este caso el tratamiento es ineficaz.
Empastes estéticos (blancos) mal ajustados y con filtración.



Técnica en el consultorio dental :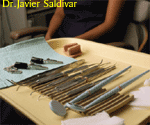 Copyright © 2018 Dr.Javier Saldivar V. All Rights Reserved


1.Se realiza una limpieza de los dientes con copa de goma y pasta de pulir para eliminar cualquier tinción extrínseca que pueda tener el diente en cuestión.

2. Tomamos fotografías, o en su defecto tomamos el color del diente a tratar con la ayuda de una guía de colores para posteriores controles.

3. Estos dos primeros pasos se llevan a cabo tanto en el tratamiento en la clínica como en el tratamiento en casa.

4. Se ajusta una goma gruesa al diente con hilo de seda anudado. Además tanto el paciente, como el odontólogo y el auxiliar deben utilizar gafas protectoras. Todo ello se debe a que los productos utilizados son cáusticos.

5. Se realiza una cavidad en la cara del diente por la que se mastica para tener un acceso correcto y eliminar todos los restos de gutapercha (material que rellena los conductos de las raíces cuando se ha efectuado un tratamiento endodóntico) y se sella con un material (compómero, ionómero de vidrio, cemento de oxifosfato ó de policarboxilato, eugenatos) para evitar que el agente blanqueante difunda hacia la raíz, ya que ello provocaría una reabsorción de la misma.

6. Se coloca el agente blanqueador en el interior y el exterior del diente mediante una bolita de algodón y una gasa impregnados (generalmente es el peróxido de hidrógeno al 30%) y se aplica una fuente de calor para acelerar la reacción (lámpara térmica, espátula eléctrica, etc.).
(Esta técnica cada vez se utiliza menos, ya que se asocia a un alto riesgo de reabsorción de raíz.?


Técnica ambulatoria o en casa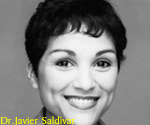 Copyright © 2018 Dr.Javier Saldivar V. All Rights Reserved


Es la que más se utiliza por ser más segura ya que el riesgo de producir una reabsorción de raíz es mucho menor que con la técnica llevada a cabo en la clínica dental.
El diente se prepara como se ha descrito anteriormente y se introduce en su interior una mezcla con consistencia de gel a base de peróxido de hidrógeno al 30% y perborato sódico. Se sella con un cemento y se deja actuar durante una semana. Tras este tiempo se elimina y se repite la aplicación. El número de aplicaciones que se pueden realizar varía según los autores, pero sobre todo depende de la respuesta del diente al blanqueamiento.
Últimamente se están extendiendo productos comerciales de activación dual, es decir química y por luz, pudiendo utilizarse varias veces en una misma sesión. Éstos cambian de color según pierden actividad, marcando así el momento de su recambio. Su composición incluye peróxido de hidrógeno al 35%, sulfato de manganeso como foto activador, y sulfato de hierro como activador químico. En principio parecen productos seguros, ya que, al no utiliza calor el riesgo de reabsorción de raíces disminuye.

Blanqueamiento en diente vital
En esta técnica es fundamental un correcto diagnóstico clínico, sin confiar excesivamente en las indicaciones de los fabricantes, que nos ofrecen los productos como solución definitiva a todas las tinciones.

Está indicado en:
Dientes con decoloraciones amarillentas.
Dientes oscurecidos por el café, el tabaco, la edad, etc.
Dientes con tinción leve por tetraciclinas (antibiótico que se administró durante el periodo de formación de los dientes).

Está contraindicado en:
Tinciones graves por tetraciclinas, ya que en estos casos es muy poco eficaz.
Caries abiertas.
Empastes grandes de color blanco, ya que este material no se aclara y el diente sí.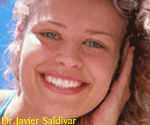 Copyright © 2018 Dr.Javier Saldivar V. All Rights Reserved
Técnica ambulatoria.
Es el sistema más utilizado en la actualidad, ya que es sencillo y cómodo para el paciente y además económico. Se toman medidas de la boca del paciente con unas pastas (alginato) y se vacían en yeso para obtener unos modelos iguales a la boca de esa persona. Se confeccionan unas cubetas con planchas de plástico flexible de unos 2 milímetros de grosor, que sirven para transportar los agentes blanqueantes a la boca del paciente. Se prueban en boca para comprobar su adaptación y se le dan al paciente las instrucciones sobre el tiempo y la frecuencia de uso. La duración del tratamiento depende del número de horas diarias de exposición al agente, del agente utilizado y de la respuesta de cada caso.
Los agentes blanqueantes son el peróxido de hidrógeno al 1'5-10% y peróxido de carbamida al 10-15% en forma de geles de alta viscosidad. Los efectos secundarios observados son sensibilidad a cambios térmicos e irritación en algún punto de la encía. La sensibilidad desaparece suspendiendo el tratamiento unos días o disminuyendo el número de horas de exposición. La irritación gingival se produce por una mala adaptación de la cubeta y se soluciona corrigiéndola .


Técnica en nuestro Consultorio (Laser de Argon).
Esta técnica se caracteriza por su potencia, por lo que está indicada en los casos más difíciles de pigmentación dentaria, ya sean solos o combinados con el sistema ambulatorio.
Utiliza el peróxido de hidrógeno al 25-35% y el peróxido de carbamida al 30-35%. Estos productos deben aplicarse cuidadosamente por el dentista sobre los dientes, habiendo aislado previamente los tejidos blandos de la boca con una goma o con resinas, ya que si contactan con ellos pueden producir quemaduras químicas con inflamación aguda, destrucción y desprendimiento del epitelio.
Simultáneamente puede aplicarse luz o calor para acelerar el proceso mediante lámparas de alta intensidad, instrumentos manuales calientes que se aplican sobre una gasa empapada en el agente blanqueante, termocubetas, etc., pero estos métodos están en desuso por lo engorroso que resulta y las molestias al paciente (dolor y sensibilidad al frío y al calor).
En los dientes con manchas de fluorosis (concentración excesiva de flúor en el diente) se utiliza ácido clorhídrico al 18-36%, el cual descalcifica el esmalte al aplicarlo sobre la superficie dentaria. Se utiliza con abrasivos como piedra pómez, discos de pulir, etc. Que eliminan el esmalte descalcificado y, con ello, la tinción localizada en él.
<![if !vml]>

<![endif]>
¿QUE SON LOS BLANQUEADORES DENTALES?
El blanqueamiento dental es una opción que tiene repercusiones en la apariencia física, en lo social, psicológico y profesional. Para los odontólogos el disimular las manchas, defectos y cambios de color de los dientes, es cada vez mas frecuente como parte integral de la practica general, por lo que el blanqueamiento dental es ya un recurso común.
Cuantos tipos de blanqueadores dentales hay?
Hay varios productos en el mercado unos que solo puede usar el cirujano dentista porque requieren mas manipulación y otros que puede usar el paciente por ser más fáciles de manejar pero que tardan un poco más.
Que contienen los blanqueadores dentales?
La primera referencia data de 1877, cuando se informo del uso de oxido oxalico
En 1895, se comenzó a usar peróxido de hidrogeno (hasta hoy el agente blanqueador por excelencia) al 100%, mezclado con éter. ( superoxol), que desde entonces se utilizo para el blanqueamiento interno y externo. Se recomienda una gama de 46 a 60°c cuando este implicado dientes vitales, y una gama de 60 a 71°C en dientes no vitales, estas recomendaciones deben tener en consideración la edad del paciente y tamaño de la cámara pulpar. Cuando el paciente reporte sensibilidad térmica hay que reducir la temperatura. Se indica que comience el tratamiento con un ajuste de 5°C.
En 1960 se informo que con él peróxido de carbamida se blanqueaban los dientes y en 1986 se introdujo el primer blanqueamiento comercial para ser usado en casa.
El peróxido de carbamida se descompone en peróxido de hidrogeno al 3% y urea al 7%, considerando que el primero es ingrediente activo. La urea cambia el pH de la solución.
Casi todos los productos comerciales para la técnica de blanqueamiento con el uso de guarda nocturna, contienen una solución de peróxido de carbamida al 10%.
Existen también otros agentes blanqueadores:
Eter de grado anestésico, se puede mezclar con peróxido de hidrogeno para el tratamiento de dientes teñidos por fluorosis;
Acido clorhídrico al 36%.
Monohidrato de peroxiborato
Si hay resinas o amalgamas se pueden blanquear los dientes?
Se debe de advertir a los pacientes sobre la necesidad de reemplazar cualquier restauración estética al termino de un tratamiento de blanqueamiento, pues en ocasiones el color y tono de estas restauraciones se alteran. La porcelana, la amalgama y el oro no presentan cambios de color ni alteraciones de la estructura.
Es necesario espere dos semanas después del procedimiento de blanqueado antes de realizar restauraciones
Cuando se debe hacer un tratamiento de blanqueamiento?
La publicidad ha influido en la decisión de los pacientes respecto al blanqueamiento de sus dientes, este tratamiento solo se realizaba en casos de fluorosis y manchas de tetraciclina.
Actualmente el paciente lo pide porque considera que no le gusta el color de sus dientes o bien porque después de una endodoncia nota que su diente obscureció. Es importante recordar que los mas blancos no son los ideales se debe escoger el tono de blanco de acuerdo al color de piel, la edad, si es hombre o mujer etc. y eso solo el Dentista lo puede recomendar
Como actúan los blanqueadores dentales?
Cuando comenzaron a usarse estos productos, no se conocía con certeza su modo de acción por tanto se determinó y se investigó que el mecanismo se basaba en la liberación de oxigeno
El empleo de la luz de alta intensidad, de calor y de tiempos de exposición más largos del agente blanqueador puede contribuir al aumento de esta liberación.

Cuanto tiempo dura el blanqueamiento, se debe repetir?
Los motivos por los que el blanqueamiento es efectivo o no es impredecible en cada paciente.
La mayoría de blanqueamientos de dientes vitales y no vitales requerirán nuevos tratamientos entre uno y tres años después.
La cantidad de solución blanqueadora que absorbe el esmalte de un paciente varia, pero en todos parece existir una perdida inmediata del efecto blanqueador en la primera semana que sigue el tratamiento,
También son importantes los hábitos del paciente fumador, tomar café o té, mascar tabaco puede provocar el oscurecimiento con mayor rapidez y esto debe ser evitado.
Una higiene meticulosa será parte importante para prolongar el blanqueamiento.
Asimismo se puede reforzar el blanqueamiento con la técnica en casa. También es importante concientizar al paciente y acudir a sus citas periódicamente.
De que otra forma se pueden blanquear los dientes?
Los cambios de color se pueden lograr con varias técnicas como: Carillas de resina, porcelana o coronas de porcelana, sin embargo estas restauraciones requieren de preparación y destrucción de dientes
Sirven las pastas dentales con agentes blanqueadores?
Si pero el dentista debe recomendar el tiempo que se use para no dañar el esmalte
Afectan al diente los blanqueadores?
Si, el uso exagerado de estos productos causa sensibilidad dental.
Llama ahora mismo para hacer tu cita:(868) 8130046.
7 # 1310 ABASOLO y MATAMOROS código postal 87300
H. MATAMOROS, TAMAULIPAS, MÉXICO
E-mail:

drjaviersaldivar@hotmail.com
Copyright © 2020 Dr.Javier Saldivar V. All Rights Reserved.
Reproduction or republication strictly prohibited without prior written permission.