Fillings with Laser Dentistry

With these criteria in mind, the laser becomes the perfect tool. We get to differentially separate good from bad tooth structure, using a laser thereby keeping tooth reduction to a minimum. The laser will seek out and destroy almost all bacteria in the cavity and will leave a pristine surface for bonding, unlike a drill which leaves contaminated smear layers on the surface.
The preparation of dental decay with laser affects the tooth less also because it cool at the surface, drills act by friction and no matter how much water is used to cool, heating of the tooth and therefore inflammation of the pulp will occur. On the other hand lasers do not create any mechanical contact with the tooth therefore any heating is at atomic levels and the actual surface is cooler . When we look at the microscope of teeth prepared by laser and those prepared by drilling, we see a lot of inflammation cells when we drilled and no change in the pulp of a lasered tooth.
Lasers are used to prepare dental cavities to receive fillings very well. The advantages to preparing with laser are as follows:
No Pain, in fact 98% of the time we do not need injections to prepare a tooth.

Smaller Preparations, at Dr.Javier Saldivar DDS. Laser Dentistry we are "minimally invasive dentists" which means we are extremely conservative with what nature has provided for you.

Better Bonding, nobody wants those old amalgam fillings anymore! By preparing with laser, Dr.Javier Saldivar DDS. Laser Dentistry can provide a better, cleaner surface to bond modern dental adhesives to your tooth, this means a great quality finish for you.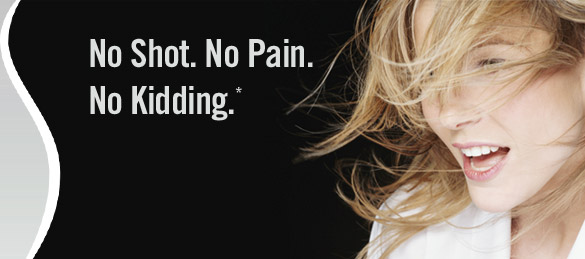 ¿No sueña usted con tratamientos dentales sin anestesia...?
Ahora ya contamos con un aparato de LASER Dental, que puede eliminar los efectos secundarios, molestias típicas de una visita al dentista (labios dormidos y largo tiempo esperando que se anestesie). Utilizamos una técnica que evita el dolor en la mayoría de los casos, esta técnica elimina la necesidad de agujas y la sensación de entumecimiento. Este LASER no produce vibraciones ni zumbidos o ruidos, sino únicamente emite un ligero sonido parecido al de una máquina de palomitas de maíz. Este aparato que, además, se obtiene un mejor resultado durante los tratamientos, este LASER trabaja sin dañar los tejidos y evita efectos secundarios tales como fracturas y debilitamiento de los dientes. Y además con este LASER todos los tratamientos son mucho mas rápidos y sin anestesia, Todo esto y mucho más se lo ofrecemos AQUÍ en nuestro consultorio dental.
Ventajas del láser dental: Un tratamiento nada doloroso y más delicado.
La mayoría de los dolores o molestias son resultado del calor y la rotación de la turbina. Con Waterlase™ (Dental LASER) no se produce ni calor ni rotaciones. De ese modo, la mayoría de los tratamientos dentales que usted reciba pueden transcurrir sin dolor alguno. Los analgésicos, las agujas para la anestesia y los efectos secundarios de la anestesia han pasado ya a la historia.

Extracciones mínimas.
Gracias a la precisión del instrumento, el dentista puede conservar los tejidos dentales sanos y ocuparse así del cuidado de sus dientes a largo plazo.

Ausencia de fracturas y debilitamiento del esmalte dental.
La vibración y la rotación del torno dental (pieza de mano) pueden provocar fracturas en el esmalte dental. Ese riesgo ya no existe con Waterlase™ gracias a que las rotaciones y las vibraciones ya no existen en este tipo de tratamientos.
Un tratamiento higiénico y seguro.
Millennium Waterlase™ limpia mientras quita la caries (esteriliza) . De ese modo, disminuye el riesgo de padecer infecciones dentales.

Un espectro de tratamientos más amplio.
Muchos de los tratamientos enfocados a tejidos blandos (las encías), que antes sólo podía llevar a cabo un especialista, se pueden ahora realizarse durante una visita normal al dentista. Los sangrados son muy mínimos o inexistentes en la mayoría de los tratamientos. Además, en el 98 % de todos los casos , no es necesario aplicar anestesia. Rápido y sin dolor
Máxima seguridad durante el tratamiento.
En manos de un dentista con experiencia, Millennium Waterlase™ es tan seguro como cualquier otro instrumento médico. Como única medida de seguridad necesaria durante el tratamiento, el dentista ,la asistente dental y el paciente, deberán utilizar unas gafas protectoras apropiadas.(Gafas protectoras para LASER Er,Cr YSGG 2780 nm)
El poder del agua y la luz.

El láser dental Millennium Waterlase™ permite realizar tratamientos dentales sin necesidad de utilizar tornos (pieza de mano) ni anestesia. Con el novedoso tratamiento LASER, el agua se evapora a través de la energía LASER. Este tipo de energía hidroquinética se utiliza exactamente igual que un torno dental convencional. Así se evita el calentamiento y la vibración resultantes de la rotación, que son las principales causas del dolor y las fracturas del esmalte.
Con Millennium Waterlase™ puede trabajar los tejidos de forma precisa y suave. En el 98% de los casos no es necesario hacer uso de la anestesia ,en cavidades profundas o en cortes de tejidos.
Tratamiento dental indoloro y sin anestesia.
No puedes tomar frío o caliente? Ya no gastes en pastas que NO te quitan la sensibilidad de tus dientes. Ahora en solo 30 segundos te quitamos lo sensible de tus dientes.
Eliminación de tejidos dañados.

Preparación de los dientes para la aplicación de empastes y selladores dentales. Estos tratamientos son para niños y adultos.
Eliminación de la caries por medio del LASER dental. Mas rápido y seguro.

Tratamiento general de tejidos blandos y duros.
Gingivectomias (Cortar las encías).
Biopsia.
Tratamiento de aftas y Herpes labial.
Hemostasia.
Eliminación de fibromas.
Frenectomias lingual.
Caries.
Limpieza dental con LASER
Osteotomias.

En esta foto se observa el tratamiento al esmalte y a la dentina.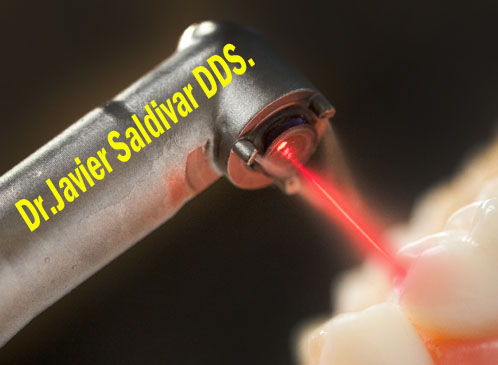 Advantages of LASER Dentistry

| | |
| --- | --- |
| | Fig 1 is an electron microscope of a drilled tooth note the cracking which creates a weakness in the tooth. Also of note is the butter like smearing of debris on the surface. |
| | Fig 2 is the same magnification as Fig1, but note how clean and crack free the surface is rendered. One can see the dot like structures which are in fact dentine tubes. This surface is absolutely clean. |
| | Fig 3 tooth with decay detected using laser. |
| | Fig 4 after laser removal of bad tooth structure, the tooth remains largely strong. |
| | Fig 5 showing that the tooth's cavity was 4-5mm deep, yet the width of the cavity was minimal. This is not possible with the drill. |
| | Fig 6 the final filling is almost imperceptible. |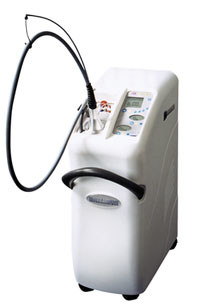 PATIENT COMFORT


Heat, vibration and pressure are the primary causes of pain associated with the use of the traditional dental drill. Since cutting both hard and soft tissues (teeth and gums) with the Waterlase® does not generate heat, vibration or pressure, many dental procedures can be performed with NO shots, NO need for anesthesia, NO use of the drill and NO numb lips! Additionally, using the Waterlase® for gum procedures NO bleeding, post-operative NO pain, NO swelling and NO need for pain medication in all cases.
ACCURACY AND PRECISION


Using our Waterlase® we are able to remove tooth enamel decay (the hardest substance in the body), bone and gum tissue precisely while leaving surrounding areas unaffected. This conserves and allows you to keep more of the healthy tooth structure.
REDUCED TRAUMA
High speed drills can cause hairline cracks and fractures in the teeth that eventually lead to future dental problems. Waterlase® reduces damage to healthy portions of the tooth and minimizes trauma.
IMPROVED CAVITY FILLINGS
Waterlase® cavity preparations can increase bond strength of tooth-colored restoration resulting in longer lasting fillings.
LESS BLEEDING AND SWELLING
Due to its conservative, gentle cutting action and coagulating capabilities, the Waterlase® performs many soft tissue (gum) procedures with little or no bleeding and less post-op swelling.
FEWER DENTAL VISITS
Since you often do not need shots or anesthesia, with Waterlase® we can perform cavity preps in all areas of the mouth in just one visit. This technology also gives trained Waterlase® dentists the ability to perform many procedures that were previously referred to specialists.
VERSATILITY
The Waterlase® is extremely versatile. It can be used for a wide range of hard and soft tissue procedures. From decay removal, cavity preparation, root canals, smile design, gum and bone surgical procedures and many others.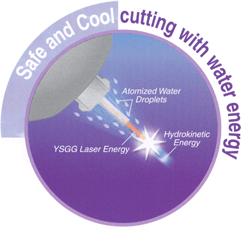 What is Hydrokinetic technology?
The Hydrokinetic process is the removal of tissues with YSGG laser-energized water droplets. Hydrokinetic energy is produced by combining a spray of atomized water with laser energy. The resulting Hydrokinetic energy gently and precisely removes a wide range of human tissue including tooth enamel (the hardest substance in the body), and soft tissue (gum tissue) with no heat and no pain in most cases.
What are the benefits of the Hydrokinetic laser?
Heat and vibration are the causes of most of the pain associated with the drill. Since Hydrokinetic cutting does not transmit heat or vibration, MOST DENTAL PROCEDURES CAN BE PERFORMED WITH NO PAIN, VIRTUALLY ELIMINATING THE NEED FOR ANESTHESIA IN MOST CASES.

The laser's pinpoint accuracy is precise enough that your dentist can leave behind as much healthy tooth structure as possible, allowing you to keep your own teeth longer.

Effectively performs numerous soft tissue (gums) procedures with little or no bleeding. The laser gives your dentist a new high-tech tool for many procedures that previously required referral to a specialist. Now you can have them performed during your scheduled appointment.

Avoids many common problems of the high speed drill, including cracks in the teeth from the vibration and rapid turning of the drill burs which can weaken your teeth, creating future problems. The laser sterilizes as it cuts, leaving less chance for bacterial contamination.

The WaterlaseMD™ prepares your teeth in a way that maximizes the bonding of tooth colored fillings, allowing them to last longer.
Waterlase™ vs. Drill
The high speed dental drill may cause a smear layer, a layer of dead organic material. The Waterlase™ creates cuts with NO smear layer, providing a better surface for bonding, and allowing your filling to last longer.
Is the laser safe?
In the hands of Dr. Javier Saldivar, the Waterlase™ is as safe as other medical devices. With it's 2 mm active range from the tip, the laser provides pinpoint accuracy, reducing the chance of causing damage to healthy tissues. The primary safety measure necessary during laser treatment is proper protective glasses.
What can the Waterlase™ be used for?
Decay Removal

Cavity Preparation

Reshape "gummy" smiles

General soft tissue procedures

General dentistry for enamel and dentin

Avoid being "numbed"

Avoid the shot and pain

Demonstration of BIOLASE's

Demonstration of BIOLASE's Waterlase(TM) cutting system combining laser energy with water droplets to create high-speed hydrokinetic water particles that can mechanically cut both hard and soft-tissues.

El sistema Waterlase® es un revolucionario dispositivo dental que utiliza la energia LASER mas agua energizada para cortar dientes. Se trata de una innovadora tecnología Hydrokinetica para realizar procedimientos dentales que hasta ahora eran dolorosos.

Con este aparato ya no vas a sufrir cuando acudas a visitarnos, funciona para trabajar

los tejidos duros (dientes y hueso) y blandos (encías y tejidos), tanto en niños como en adultos.

Permite realizar tratamientos menos traumáticos, evitar la anestesia en muchos casos

y eliminar la molestia característica de la turbina, este LASER acaba con la sensibilidad dental y con el sangrado de las encías. Además mejora el procedimiento del diseño gingival.

trabaja las caries sin necesidad de anestesia y permite realizar cirugías óseas con

mayor precisión.

Este láser tiene la ventaja de cortar tejidos, siendo capaz de reemplazar al bisturí

en cirugía y la turbina (pieza de mano) en odontología clásica. El sistema Waterlase

emite un rayo LASER (YSGG), agua y aire con alta precisión. Lo mejor es que las

gotas de agua que absorben la energía láser, se convierten en partículas de

agua energizadas. La energía hidrokinética resultante elimina cuidadosamente

y con precisión cualquier tejido humano. No produce daño térmico a dicho

tejido y permite mejores postoperatorios.

El 99% de los pacientes con este sistema afirmaron no haber sentido malestar durante el procedimiento dental.

No produce calor ni vibración alguna durante la operación. La precisión de corte

que proporciona este LASER, permite realizar tratamientos menos invasivos, preservando mayor parte de la estructura dental sana. De esta forma se puede conservar la propia

pieza dental durante más tiempo. Con este sistema de corte se puede realizar un

gran número de intervenciones sobre el tejido blando, sin sangrado y con gran

precisión, lo que se traduce en una recuperación mucho más rápida y sin edema.

Frenectomía

¿Qué es una Frenectomía?

La Frenectomía es la cirugía que se encarga de la extirpación del frenillo anormal, el frenillo es una banda musculosa que une la lengua, el labio inferior o superior a la encía. Este procedimiento se realiza en pacientes con la lengua muy pegada al piso de la boca, se detecta precozmente, aproximadamente a los dos años, pero muchas veces no se opera inmediatamente.


¿Porque una Frenectomía?

Puede ser el labio superior, el mas común, la corrección es para solucionar un diastema (separación) entre los incisivos superiores. También ocurre en el labio inferior.
Esto también ocurre en la lengua, y se debe corregir para solucionar un problema de anquiloglosia (lengua presa) que puede ocasionar dificultades al hablar, siendo el fonema (el habla) el mas afectado.

También existen frenillos laterales que pueden estar implicados en una mala retención protésica.

Frenillo con inserción muy baja produciendo diastema (separación dental) Frenillo lingual, produce dificultades al hablar.

Todo esto se corrige con LASER sin anestesia y sin dolor.

............................................................................................................................................

ND YAG PulseMaster 600

Dr. Javier Saldivar makes it a focus of his practice to stay on the cutting edge of dental technology so that he can provide better, faster service to his patients.

That's why he uses a variety of dental lasers in his practice, each one ideally suited for the specific application and designed to make your visit to the dentist quick, comfortable and pain-free.

There are many advantages to Laser Dentistry.

Soft tissue laser treatment

Dr. Saldivar uses the PulseMaster 600 IQ dental laser for a large variety of soft-tissue issues. With this laser,

we can Treat cold sores with no anesthesia. The laser treatment cuts healing time by 50%, and prevents cold sores from recurring in the treated spot;

COLD SORES

Remove soft tissue between the two front teeth that may be causing a gap or space between the teeth, in just a few minutes and with little need for anesthesia;

FRENECTOMY

Provide a fast and painfree treatment for "venous lakes" or purple discolorations on the lips;

VENOUS LAKES

Repair a "gummy smile," giving you a smile without puffy, overgrown gum tissue; and

GUMMY SMILE

Use it to control bleeding and retract gum tissue so that the impressions that we take for your crown or bridge are more precise, and require less time and discomfort for you.

Tooth Sensitivity;Teeth can develop sensitivity to either cold, hot, chewing or all three. This can be due to many factors such as caries/decay, fractured tooth or filling, bruxing (grinding), aggressive brushing and more.

Use of Nd:YAG laser irradiation has been supported for the mitigation of symptoms from dentin hypersensitivity.

Painless, precise laser gum treatment

LASER GUM TREATMENT

When treating mild to moderate periodontal cases, the laser is used to kill bacteria, sterilize the area and promote healing. With its flexible, easy to use arm this device can reach isolated areas that don't respond to traditional treatments.Even some advanced cases respond to the laser, avoiding the need for traditional gum surgery. Comfortable laser cosmetic gum surgery.

Your gum tissue is like a frame that provides form and shape to the top of your tooth. A less than attractive, 'gummy' smile results when the integrity of the gum is compromised, or the actual gum between your teeth becomes weak. Usually due to poor hygiene (gum disease), you actually begin to lose gum tissue.

Cosmetic gum surgery is the procedure of lengthening your teeth from the neck of the tooth upwards.

Dr. Saldivar uses the PulseMaster 600 IQ soft-tissue dental laser to painlessly correct a 'gummy smile.' Your teeth then appear to be longer and much less gum is seen when you smile.
| | |
| --- | --- |
| Dr.Javier Saldivar DDS | |

Copyright © 2016Dr.Javier Saldivar V. All Rights Reserved.
Reproduction or republication strictly prohibited without prior written permission.